What is Alchemy SD?
Alchemy SD is a health, fitness, and wellness enterprise that specializes in the optimizing the body, spirit and mind. We use a variety of methods to assist individuals in strengthening their willpower in all facets of life by creating maintainable & sustainable habits designed to improve the relationship clients have with fitness, nutrition, and mindfulness. Alchemy SD offers tailored
workout programs
,
nutrition plans
and
corrective exercise programs
that are aimed at helping every human being become more physically and mentally fit. Our philosophy is simple. In order to live a fulfilling life, we believe that every human being on earth must seek to Get Fit 4 2 essential reasons: to achieve a sound
body
and to achieve a sound
mind
. One may achieve these two necessities by becoming physically and mentally fit. Here at Alchemy SD, we take the guesswork out of the entire process by offering a wide variety of services aimed at assisting YOU achieve physical and spiritual breakthroughs.
What comes to mind when you hear the word "fit"? Maybe it's the chiseled monster in the latest Men's Health Magazine or the Instagram Model with 300k+ followers. But I am here to tell you there is more to the word "fit" than achieving a stellar body. You see, one is essentially incomplete without a sound body and mind. We must work on perfecting both of these to achieve complete satisfaction. Here at Alchemy SD, every service we offer is customized and designed to cater to a healthier body and mind. Our services are designed to help build willpower and valuable habits which are prerequisites to achieving true breakthroughs within the body and mind. We achieve this through in-depth client assessments, unique and well thought-out program writing, and a deep and thorough understanding of the internal and external influences in life which if not controlled, cause an imbalanced body and mind. Most importantly, all of our programs are based on building a plan unique to you, building in flexibility for the expected slip ups, and most importantly, establishing a firm sense of accountability.
THE TIME IS NOW! Consider what you can do today to set the wheels in motion and achieve the breakthroughs you deserve.
Alchemy SD understands that every client is unique. Every person has different schedules, different stressors, different health and training needs. We have serviced clients ranging from NFL athletes, sailors, NCAA division I football players and wrestlers to stay at home moms, CEO's, administrative assistants, engineers, teachers and a multitude of other athletes and corporate individuals. We have the tools and resources necessary to cater to all individuals who are looking to improve their body and mind.
Although we serve a vast array of clients, we have found one universal similarity that I would like to emphasize. This similarity is that no matter the gender, age, profession, body composition or physical ability, every single person in this world encounters stress. We get it. That is a part of life. Stress comes at us from a hundred different angles on a consistent basis. BUT it is our decision in how we respond to this stress.
That being said, we encourage you to enjoy the process! Enjoy the grind. Embrace the suck! We urge you to approach our fun and challenging programs with the mindset that when it is all said and done, you will have achieved a stronger body and mind.
No matter where you are in the world, you can benefit from the services we have to offer.
Rob Eyler, Founder of Alchemy SD
Rob has been involved in health and fitness for over 17 years. He grew up in San Diego and attended college at the University of Redlands where he double majored in Business and Accounting and minored in exercise science. Rob also played football for four years at the University of Redlands. Rob is a Registered Yoga Teacher (RYT) with Yoga Alliance, which acknowledges the completion of a yoga teacher training with a Registered Yoga School (RYS). Rob is also a Certified Personal Trainer, Corrective Exercise Specialist, Fitness Nutrition Specialist and Behavior Change Specialist. He is credentialed by the National Academy of Sports Medicine. Furthermore, Rob is a licensed Certified Public Accountant (CPA) in the State of California and has been a CPA for 5 years. Rob provides yoga, mindfulness and meditation services to groups ranging from 5-500. Rob also leads courses on stress and anxiety management to groups ranging from 5-1,000. Additionally, Rob helps Corporations to develop programming, courses, and innovative initiatives in an effort to optimize the physical, emotional, and spiritual wellbeing of all employees. Rob currently resides in San Diego, California.
GetFit TODAY!
Contact us TODAY to start your breakthrough.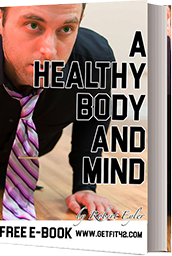 Sign up for our newsletter and get a FREE ebook
($50 value) on how to achieve a healthier body and mind!